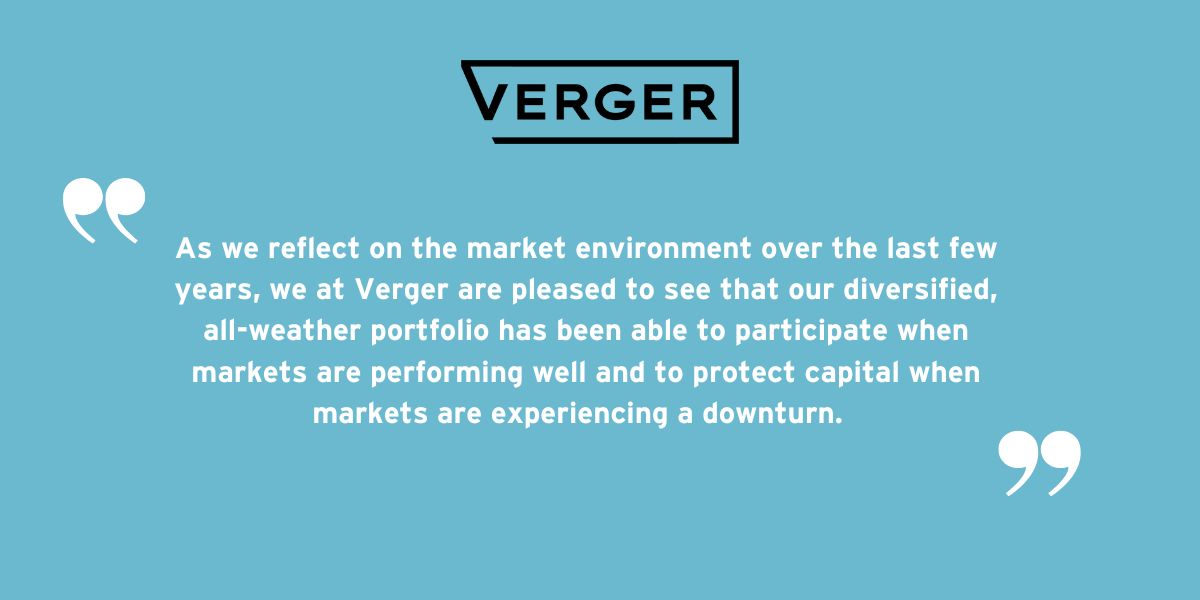 Wednesday, August 16th, 2023
From The Desk of Craig Thomas: 2023 Fiscal Year End Review
As we look back at the 2023 fiscal year, wrap up our biannual audit, and reflect on the market environment over the last few years, we at Verger are pleased to see that our diversified, all-weather portfolio has been able to participate when markets are performing well and to protect capital when markets are experiencing a downturn. When we look back over the last year at Verger's team activities and our relationships with clients and industry peers, this period saw renewed commitment to in-person activities and gatherings that remind us how much we enjoy being connected to each other and our community. Through it all, we continue to deepen and grow our connection to Verger's mission of "investing in the lives of others."
Market Themes
One theme that has carried through the fiscal year has been the wildcard of Fed decision making and the resulting movement of interest rates. In December 2022, we published a piece outlining our thoughts on the continuing recession signals, and noted that recessions (or market downturns) can be an opportunity for us to lean into our portfolio liquidity and make opportunistic investments, especially when others are looking for buyers at any price. In March 2023, we revisited this topic by further exploring the relationship between interest rates and inflation and cautioned that near-term falling inflation could potentially be an illusion and further Fed rate increases could still be part of the near and mid-term outlook. As a result, we explained that we would continue to scour the market for attractive opportunities and we remained steadfast in our belief that versatility would be key for managing the volatile market environment going forward.
This period did, indeed, see much volatility – so much so that our 2022 Q3 Market Outlook title harkened back to an angsty 90's anthem entitled "Everybody Hurts (Sometimes)" and our 2023 Q1 Market Outlook called on the absurd play "Waiting for Godot" to evoke a sense of (almost hopeless) uncertainty.
However, Verger's focus on true diversification, active portfolio management, and unconstrained idea generation helped put us and our clients in a unique position to not only make it through these challenges, but also take advantage of opportunities to "upgrade" our portfolio for continued long-term performance. We found exciting opportunities broadly in real asset strategies, credit, emerging markets, and more specifically in some closed-end funds, self-storage, and, most recently, in the reinsurance industry and Japanese equities. These opportunities span public and private markets, and we will continue to leverage our team's talents to find ongoing opportunities in private investments, which is a very important component of our portfolio.
Going forward, we remain convinced that our all-weather approach is crucial to our long-term success. As we noted in January 2023 in our World Cup themed Market Outlook, "offense wins games, defense wins championships" and the right approach is always a team effort. Similarly, in our most recent market commentary where we compare investing to the Tour de France, we remark that winning one stage of the famously challenging bicycle race (or one investment quarter, or year) doesn't guarantee a spot on the winners' podium (or long-term investment success). The key to long term returns is participating when the markets are performing well, but also minimizing losses when markets are less hospitable.
Team Activities
This fiscal year saw the return of our in-person investor conference and our first client networking event in New York City. In addition, we had several opportunities for team building throughout the period, including team retreats and volunteer days.
Verger's Investment Team resumed a regular schedule of traveling for due diligence meetings, industry events, and speaking engagements. In addition to manager meetings and conferences in the U.S., our team traveled to both Europe and Asia. Carlie Eubanks, Investment Director, traveled to Seoul, Korea to attend the annual meeting of one of our early-stage venture capital managers and to meet with additional prospective managers in the region. Taylor Jackson, Investment Director, traveled throughout the U.S. (including Los Angeles, Kansas City, and Newport) to build our network, speak at conferences, and perform onsite due diligence. I myself traveled to London, Edinburgh, Oslo, and Japan to perform onsite due diligence and explore new investment opportunities for Verger.
As I begin my tenure as Verger's sole Chief Investment Officer, I am proud of the personal development and team growth I've witnessed, and am grateful for the team's iterative dialogues and debates about how to best position our portfolio for continued success. I am also grateful for Jim Dunn's continued contributions as a member of the Investment Team – it was an honor sharing the title of Co-Chief Investment Officer with him, and I look forward to this new chapter in Verger's leadership.
I look forward to another year and, given our commitment to continued learning and growth, feel prepared for any challenges that lie ahead. I speak for the full team when I say thank you to our clients, managers, and industry peers for your continued partnership.
With best wishes for a wonderful remainder of the summer,

Craig Thomas, Chief Investment Officer
Subscribe to Monthly News & Insights