Verger recently hosted its first in-person conference since 2019, marking an energizing and engaging event for our investors, investment managers, board members, staff, and constituents. The event was held in September in downtown Winston-Salem, NC and offered a variety of sessions focused on the current market environment, topics around governance, and how equity and inclusion intersect an organization's mission. Attendees were able to explore best practices of board governance with an experienced strategist, discuss current market conditions and trends with public and private fund managers, and develop strategies to support their missions through exercises designed to connect theory with actionable steps to improve inclusion.
Below, we share our key takeaways from the sessions, which included Board Governance and DEI presentations from Jennifer DeCoste, Vice President for Leadership Strategies at Credo, and conversations with several of the third-party investment managers working on behalf of Verger's clients.
1. Nonprofit boards need to access non-financial "capital" by investing in the right board and committee members
Most organizations fail to accurately assess talent among their staff, committees, and boards. When organizational success is largely driven by the talent available, it's crucial to use your organization's team (which includes administrators, staff, and board members) to its highest value. A thorough evaluation of your team's intellectual, reputational, social, and political capital can help identify areas of opportunity, drive clarity, and gather strategic insights and solutions. Using capital to quantify talent rather than standard assessment methods ensures your team is agile, empowered, and well-positioned to best serve your mission and evolve your organization.
2. The strongest Boards spend more time in "Generative" mode
Boards generally spend time in three different modes: Fiduciary, Strategic, and Generative, but these modes don't all have the same value. In Fiduciary Mode, the board is providing oversight, is analytical, and is often focused on technical details of performance and projections. In Strategic Mode, the members are looking ahead, analyzing, and assessing variables and outcomes. In Generative Mode, the members are exploratory, offering insight, reconciling value propositions, inquisitive, and adaptive. When spending time in Generative Mode, boards will examine their own effectiveness, ask questions, identify threats and opportunities, and engage staff to find creative solutions. Certainly, when there is a crisis or issue to solve, it will be necessary to pivot, but generally, an organization will make the most of their board if spend at least 60% of their time in a generative state rather reaction or technical mode.
3. Avoid Over-diversification and Invest in Strong Management
We asked the panel of speakers from several of Verger's equity and hedge managers to weigh in on the question: "What's your edge? What differentiates you and your strategy from other managers?" The central themes that emerged were: (1) over-diversification is the enemy of alpha; (2) managers must strike the right balance on portfolio concentration; (3) teams with a multidisciplinary background have an advantage in their ability to view investments through multiple lenses; and, (4) invest in quality management. Good management can overcome a bad business, but bad management will sink a good business.
4. Invest in People and Unsung Businesses
Our session with one of our lower middle-market buyout managers centered around two themes. Investing in people and seeking out unsung, under-appreciated companies. Key to their success has been investing in industrial services, manufacturing, and distribution business and focusing on the smaller end of the market. They are often dealing with family owned or closely held businesses that may create more complexity in deal dynamics. However, these smaller, niche businesses often have the potential for greater value creation for investors, so while they may seem less exciting from an outsider's perspective, they can be extraordinarily attractive opportunities. The key takeaway, however, is that it's imperative to have the right people on your team in place – individuals who know the industry and can speak the language of the companies in which they are investing. These may not be as flashy and "exciting" as the latest growth or technology company, but if you have the right people, they can be just as, if not more, lucrative from an investment standpoint.
5. Connecting the mission of an organization to DEI work will make the work more impactful to a broader constituency
Much has been written and discussed about the importance of businesses, particularly non-profits, embracing and fostering a culture of Diversity, Equity, and Inclusion (DEI). However, the individual experiences that each person on a board or within an organization brings to the conversation vary greatly and can make this sensitive work a point of anxiety or contention. Our panel identified the best way of ensuring engagement and impact across your team is to help your constituents connect the mission with DEI. This means identifying the part of the institution's mission about which each individual is most passionate and helping them connect its success with DEI initiatives.
6. Have the humility to laugh at yourself and the wisdom to learn from history
The event concluded with the opportunity to enjoy the opening of the Face to Face Speaker Forum's 2022/2023 season with the 43rd president of the United States, George W. Bush, and presidential historian and Pulitzer-prize winning author, Jon Meacham. Their conversation was wide-ranging and included a healthy dose of self-deprecation, but they also shared many valuable insights. Key among them was that one must understand how one's role and decisions fit into the much broader and longer-term context of history – something we, as long-term investors, agree with strongly. Verger proudly sponsors the Face to Face Speaker Forum through a community engagement grant that provides tickets to community members at no cost.
If you missed this year's conference, we encourage you attend next year and make your own list of takeaways to share with your community.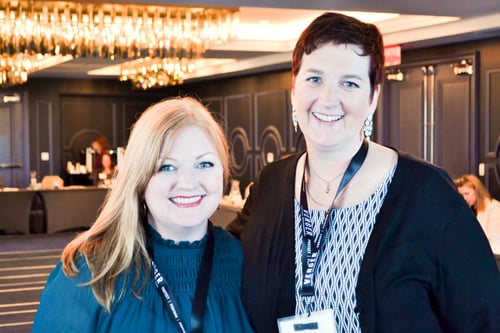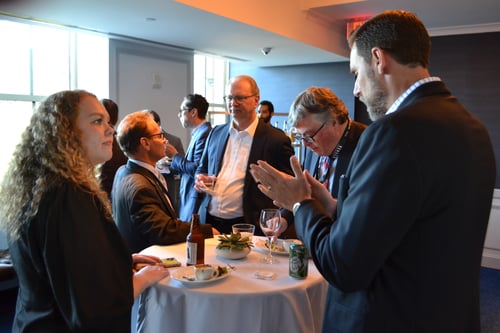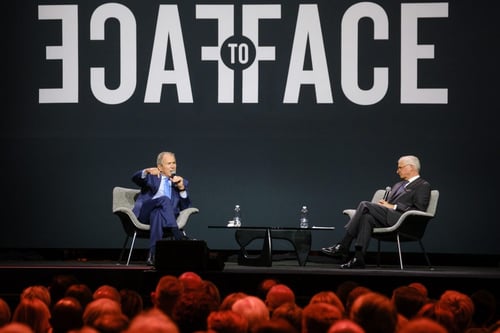 If you are interested in more Verger events or news, please consider subscribing to our blog to hear more about future events.