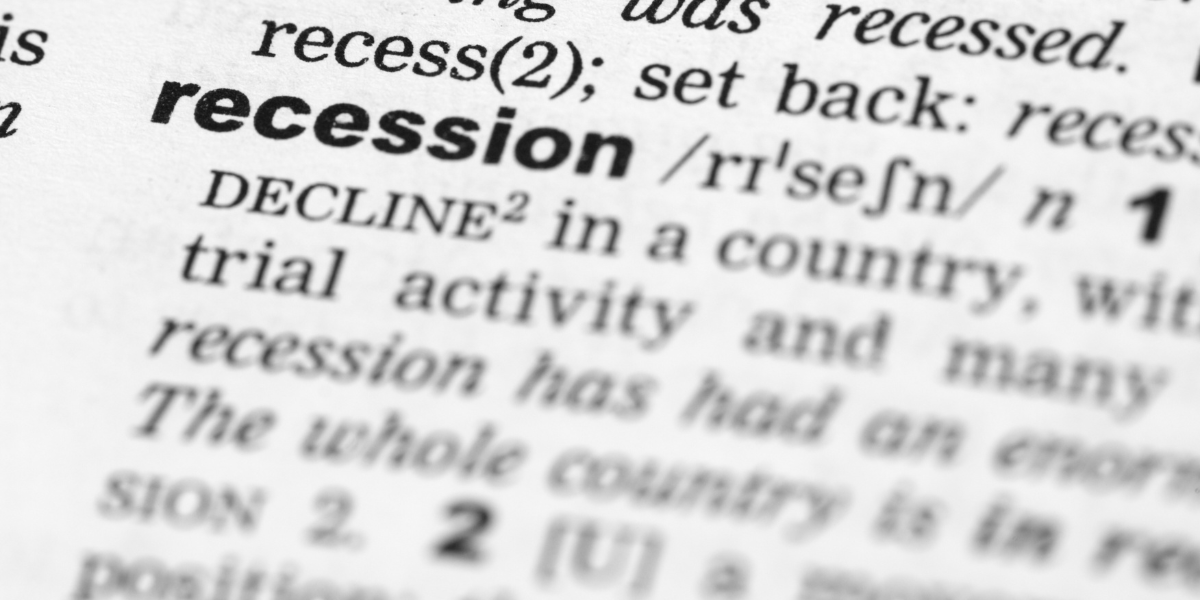 Thursday, December 15th, 2022
Recession Indicators: Thoughts for Non-Profit Investors
Here's the thing about recessions – we don't know we're experiencing one until after it starts. There's been quite a bit of talk about a U.S. recession this year, so we are sharing the Verger team's reaction to recent developments.
Strong Signals
In its November U.S. Leading Indicators press release, the Conference Board noted that the U.S. LEI fell for the eighth consecutive month – "suggesting the economy is possibly in a recession." Across the asset management community, estimates of the beginning of a U.S. recession vary, but have recently targeted early to mid-2023.
However, it is possible that the recession is already here. Take, for example, the LEI Diffusion Index (Chart 1). This level of significant decline is typically a strong recession signal.
Chart 1: The LEI Diffusion Index Shifts from Warning to Recession Signal
Source: The Conference Board, 11/18/2022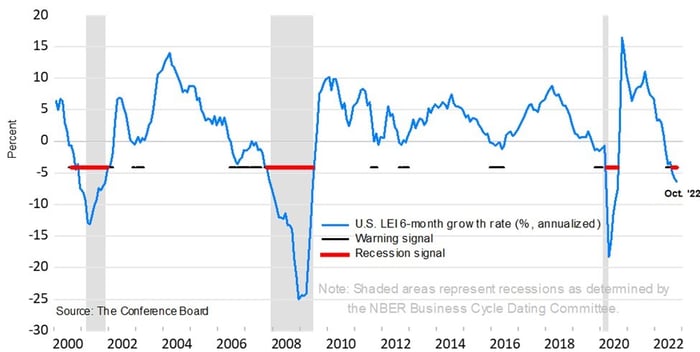 Similarly, an inverted yield curve is often referred to as Wall Street's favorite recession signal. Yield curve inversion is nothing new this month (and is currently at its greatest magnitude since the 1980s), but continued curve steepening can be an additional indicator that a recession has already begun or is imminent (Chart 2).
Chart 2: Steeply Inverted U.S. 2s 10s Yield Curve – A Recession Signal
Source: NASDAQ, 12/1/2022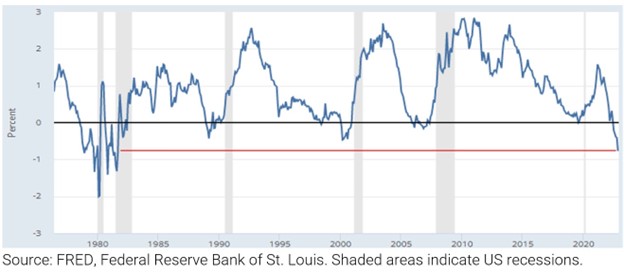 It Seems Inevitable
So here we are. If we're not currently living through a recession, then best estimates point to one right around the corner. Until relatively recently, the Fed was hesitant to normalize interest rates for fear it would stifle growth and trigger a recession. Now, it seems the opposite may be true, with the Fed committed to beating inflation and leaving hawkish policies in place, despite weakening labor markets. Investors who have been hoping for a Fed pivot have been disappointed over and over, and yet some of them are (in our view, mistakenly) still holding out.
What Does it Mean for Verger?
Given our focus on all-weather, antifragile portfolios, volatility and economic uncertainty are always part of our risk assessment when allocating client capital. Recessions and market downturns can be an opportunity for us to lean into our portfolio liquidity and make opportunistic investments when others are looking for buyers at any price. Now, as ever, we remain vigilant to take advantage of potential opportunities and market dislocations.
All investments involve risk, including possible loss of principal.
Not all strategies are appropriate for all investors. There is no guarantee that any particular asset allocation or mix of strategies will meet your investment objectives. Diversification does not ensure a profit or protect against a loss.
One cannot invest directly in an index, and unmanaged indices do not incur fees and expenses.
This article is being provided for informational purposes only and constitutes neither an offer to sell nor a solicitation of an offer to buy securities. Offerings of securities are only made by delivery of the prospectus or confidential offering materials of the relevant fund or pool, which describe certain risks related to an investment in the securities and which qualify in their entirety the information set forth herein. Statements made herein may be materially different from those in the prospectus or confidential offering materials of a fund or pool.
This article is not investment or tax advice and should not be relied on as such. Verger Capital Management ("Verger") specifically disclaims any duty to update this article. Opinions expressed herein are those of Verger and are not a recommendation to buy or sell any securities.
This article may contain forward-looking statements relating to future events. In some cases, you can identify forward-looking statements by terminology such as "may," "will," "should," "expect," "plan," "intend," "anticipate," "believe," "estimate," "predict," "potential," or "continue," the negative of such terms or other comparable terminology. Although Verger believes the expectations reflected in the forward-looking statements are reasonable, future results cannot be guaranteed. Except where otherwise indicated, all of the information provided herein is based on matters as they exist as of the date of preparation and not as of any future date, and will not be updated or otherwise revised to reflect information that subsequently becomes available, or circumstances existing or changes occurring after the date hereof.