From its founding and throughout its growth, the Verger Women's Leadership Initiative's (VWLI) goal has been to create a dedicated space for female team members to explore leadership challenges that are unique to them within asset management and the broader finance industry, and, on this foundation of understanding, build impactful leadership skills.
As it has evolved, the group has developed meaningful ways for members to demonstrate and hone their leadership skills while engaging the broader team. This includes VWLI's seeking to expand members' and the broader team's understanding of the Diversity, Equity, and Inclusion (DEI) space so that Verger can become a stronger advocate and actor for equity and inclusion within the firm and the broader community.
We sat down with the three VWLI members who have been steering the group during this calendar year – Angie Jones, Liz Laughter, and Inge Smith – to bring light to the group's unique story. During these discussions, we gained new perspective on the phrase, "leadership at every level." Through this grassroots initiative, members of VWLI – regardless of position in the firm – have created space to seed initiatives and grow them into meaningful parts of Verger's culture and business practices.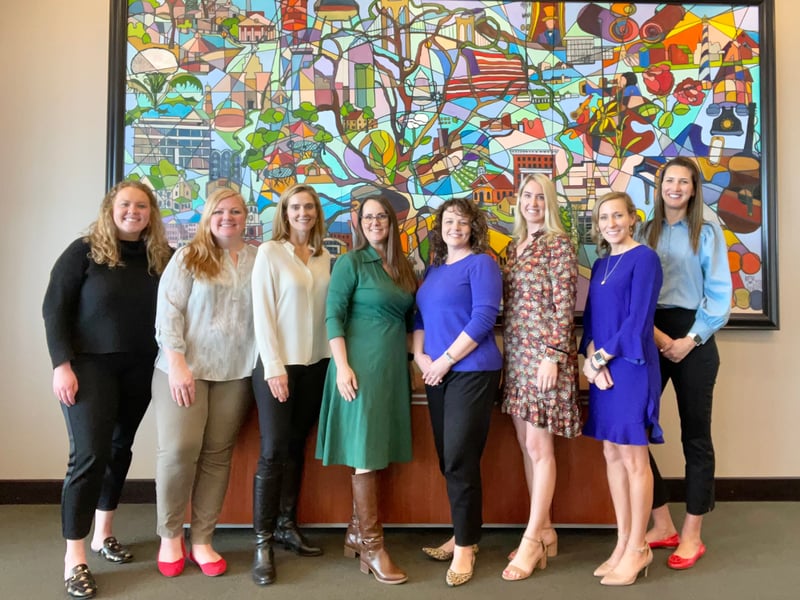 Members of the Verger Women's Leadership Initiative (VWLI), 2021. From left: Madison Moses,
Liz Laughter, Carlie Eubanks, Angie Jones, Vicki West, Inge Smith, Tricia Walker, Whitney Newell.
How it all started
As part of its commitment to employees' professional development, Verger provides access to leadership resources through annual team building and development workshops, as well as the opportunity to schedule one on one support and career coaching. In working with Optimum Insights, a leadership development firm that specializes in executive coaching and has a history with and expertise in women's leadership, a few of Verger's team members were exploring joining a Women's Leadership Peer Group. "In discussing our ultimate goals, we decided it would be extremely beneficial to set up our own, internal group," Liz shared. "We wanted to create an action oriented community within Verger that could build on engaging and enlightening conversations to develop individual and team leadership skills," she said.
In setting up VWLI, founder and Verger's Chief Operating Officer, Vicki West, sought to collaborate with team members and outside experts. Vicki elicited the support of Optimum Insights' Founder & Principal Sara King, to help the group collaboratively set membership expectations and review best practices from similar groups.
"Vicki was thoughtful about her role from the beginning," Inge said. "Having the support from our C-Suite was, and continues to be, crucial in demonstrating Verger's commitment to the VWLI's objectives. But Vicki has also made it clear that the purpose of the group is to promote leadership opportunities at every level of the firm. She created the space and then purposefully shifted the shared responsibility of leading the effort to the members."
"The early meetings were very intentional and were critical in establishing the collaborative and supportive nature of VWLI, especially since it was Verger's first official Employee Resource Group (ERG)," Liz agreed. "It was also important that we established a framework for collecting feedback so that the group could continue to evolve and improve based on our shared experiences."
2020 launch: Planting seeds
In its first year, VWLI provided a much needed point of connection for the team as everyone grappled with the changing environment inside and outside the fully virtual workplace. The group stayed virtually connected through monthly meetings, exploring topics of interest and relevant research for continued development and education.
"Our meetings truly went beyond connecting during a difficult time," Angie said. "We learned a great deal," Inge observed. "VWLI gave us a space to practice skills that extended beyond our day to day responsibilities," Inge shared, pointing to skills such as facilitating group discussions, creating new frameworks, and public speaking.
From the beginning, the group was open to the concept of growth and change, and excited to see how VWLI could develop over time. "We knew we needed to be intentional, evaluate ourselves and our progress, and implement changes as necessary," Angie shared.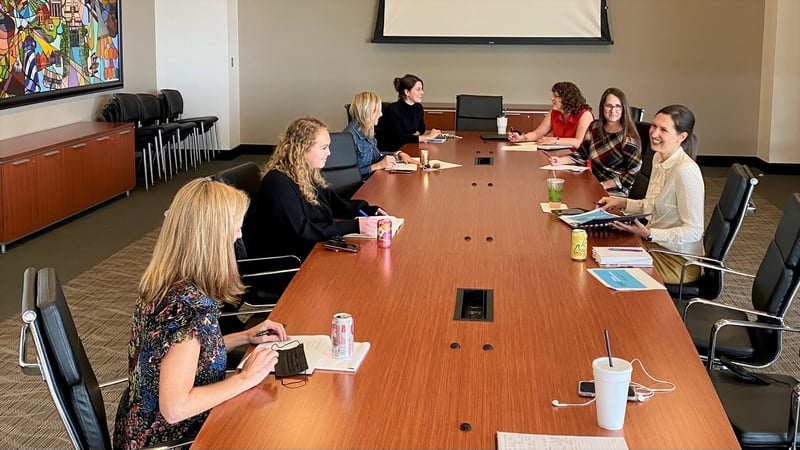 Members of VWLI participating in one of the group's leadership development engagement sessions
2021 growth: Strengthening the root system
To this end, the group made the conscious choice to expand on its initial goals and identify ways to engage the broader team. "We knew that our colleagues were also interested in deepening their understanding of DEI topics and that the team as a whole would benefit from learning together," Liz pointed out.
"As we looked forward to a new year, we created the 2021 VWLI Speaker Series," Inge explained. "We sought to engage Verger team members, our Board of Managers, and our advisory boards in this ongoing series highlighting different voices across a range of DEI and leadership topics," she said.
The connection to Verger's mission, "invest in the lives of others," was clear throughout. One common theme was the importance of advocating for members of the team and the broader community that have historically been underrepresented in leadership roles, and the different ways to share that support, including allyship, mentorship, and sponsorship.
"One particularly special moment for us was hosting two of our female Board of Managers members for an intimate talk about mentorship and their experiences in leadership," Inge noted. "With female leaders from every level of Verger's organization in the room, the event truly highlighted Verger's commitment to VWLI's objectives."
With events spread throughout the year, team members enthusiastically participated and continued to build on concepts and leadership techniques from earlier sessions. "We had excellent participation across our team and our Boards," Angie shared. "We felt the support from the extended Verger team and received positive feedback on the sessions from a range of participants," she added. "There's been a real feeling of community, shared learning, and lifting each other up."
The feedback from the broader Verger team has been a critical part of VWLI's efforts to continually evaluate the group's objectives and results. As the Initiative has evolved, different members have stepped up to formalize learnings and move VWLI activities forward.
"As we gained traction in 2021 and continued to build our leadership skills, we saw that the group was eager for even more responsibility," Inge shared. "It was time to take on expanded objectives and use our skills to help move the firm even further forward," Liz agreed.
2022: Flourishing & focusing on DEI
After exploring a list of meaningful topics and voting on which to focus on in 2022, members of VWLI elected to explore the concept of biases and DEI more broadly. The group also formed internal committees, giving members opportunities to take on new leadership roles.
Liz, who has been spearheading the DEI initiative, shared that some of its first steps were reaching out to Verger's partners for insight. "We tapped our legal and HR partners, who have robust DEI experience, resources, and capabilities. In working with them to form a roadmap for Verger's future, we organized our efforts within an actionable structure of three pillars: 1) attract, recruit, and onboard, 2) learning and development, and 3) inclusion and engagement."
Action items in each of these three categories span Verger's hiring process for team members and portfolio managers, HR policies and procedures, team building activities, and focused DEI education. "We sought feedback and suggestions from our entire team, and we felt this level of engagement and inclusion would best position us for success as we created an action plan. This buy-in, coupled with the full weight of our leadership team behind us, helps us feel confident that we'll be able to execute and institutionalize the change," Liz shared.
Alongside this work, other committees have also made their mark on Verger's culture. The volunteer committee, for example, led by Tricia Walker, has hosted a roster of volunteer events for the full Verger team. Ranging from a full day lending a hand to Habitat for Humanity, to preparing a meal for 100 guests at the Samaritan Ministries Soup Kitchen, these events have given the whole team a way to serve the community and come together. Members of the Verger team are grateful for this opportunity to invest in their community through the firm's generous Volunteer Time Off (VTO) policy, which offers all employees paid hours to participate in volunteer work.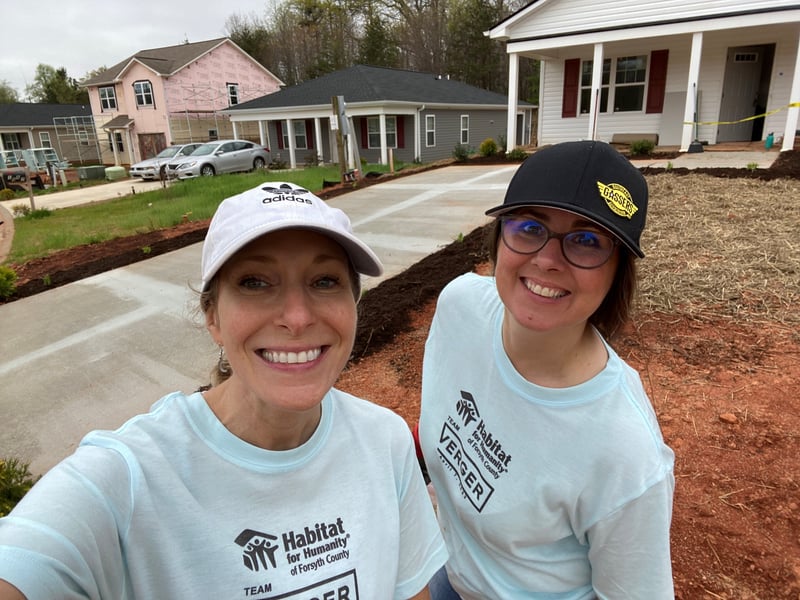 VWLI members Tricia Walker and Angie Jones volunteering with the team at Habitat for Humanity
Looking forward: The plan for continued growth
As VWLI looks to the future, its members are proud to point to meaningful outcomes from the work to date. Vicki was named one of the Triad Business Journal's Outstanding Women in Business, with her founding of VWLI cited as one of her impressive achievements. Both Inge and Tricia received promotions this year, reflecting their growth, leadership, and contributions to the firm. "I absolutely credit my participation in VWLI," Inge shared. "The group has given us space to build confidence through community, and a platform for showcasing our leadership capabilities. This combination is fertile ground for finding new challenges and roles with the firm."
In addition, VWLI is proud of the policies, procedures, and level of awareness and understanding that its DEI initiatives have created. "VWLI gave us the space to agree on the most authentic way for Verger to move forward with real change," Liz said. "Because the change has roots in every level of the firm, it's more likely to be meaningful and long lasting."
Indeed, the remaining months of 2022 and the year ahead will continue to build on the strong DEI roots VWLI has nurtured. A recent survey, issued with Verger's HR partner and with 100% participation from staff, confirmed that a commitment to DEI has strong, firmwide support and is crucial to Verger's future. VWLI's DEI committee is looking forward to continuing to implement its action plan.
In looking forward, colleagues agree that VWLI will continue to stay true to the original goal of providing space for women to explore leadership challenges and cultivate our leadership skills. But there remains room for growth.
"As we finish the year, we will be facilitating meetings with the full team and gathering their feedback on potential plans for VWLI in 2023," Angie shared. "We will continue to include the full team in conversations about how we can grow their opportunities to engage and participate," Inge agreed. "In addition, we are excited to allow VWLI to continue generating specific, positive initiatives and impactful outcomes," Liz added.
Verger looks forward to more great things to come and is grateful for the positive impact that VWLI has already had on the firm – not only the culture and business practices, but the mission as well.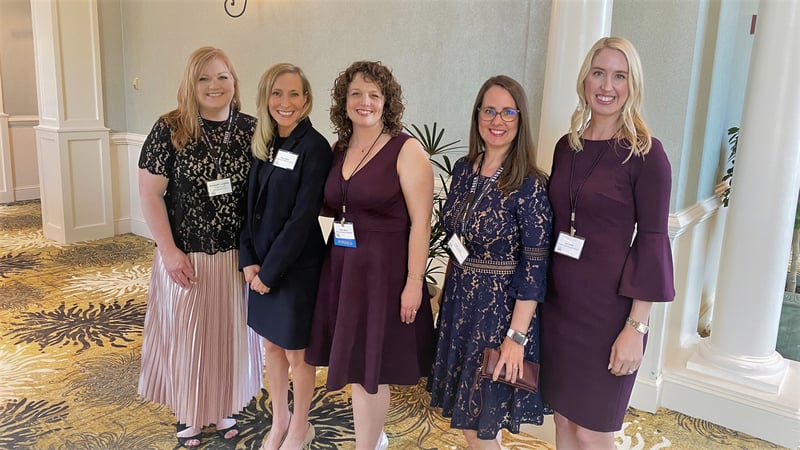 VWLI members Liz, Tricia, Vicki, Angie, & Inge at the Triad Business Journal Outstanding Women in Business Event