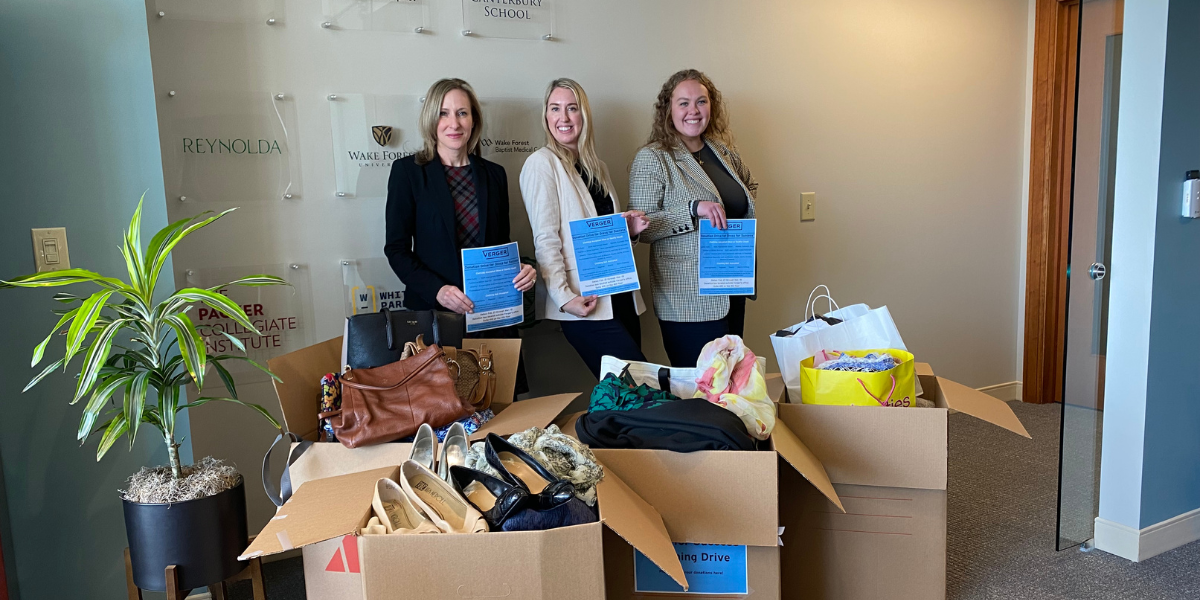 Wednesday, March 29th, 2023
Verger in the Community: Dress For Success
Members of the Verger Women's Leadership Initiative (VWLI) recently led a clothing drive for Dress for Success, an international non-profit whose mission is to empower women to achieve economic independence by providing a network of support, professional attire, and the development tools to help women thrive in work and in life.
Team members Tricia Walker, Inge Smith, and Madison Moses organized the clothing drive for new and used clothing, shoes, handbags, and accessories to support the local branch, Dress for Success Winston-Salem. Verger staff were excited by the opportunity to support women in the community, collecting clothes from their closets, asking friends and family for donations, and shopping for requested items.
The Verger team extended the invitation to participate in the drive to other tenants in the Winston-Salem Foundation building, where Verger is headquartered, and was grateful for support from many of their neighbors. After collecting items for several weeks, the team recently dropped off large boxes filled with donations to support this dedicated non-profit. Members of the team also contributed monetarily, which provided an additional donation to the organization beyond the items collected through the drive.
VWLI is proud to support Verger's mission to Invest in the Lives of Others by organizing quarterly charitable activities for the entire team and looks forward to continuing to support local non-profits in the Winston-Salem community in 2023.
To learn more about Dress for Success, find an affiliate, or donate, visit their website here.