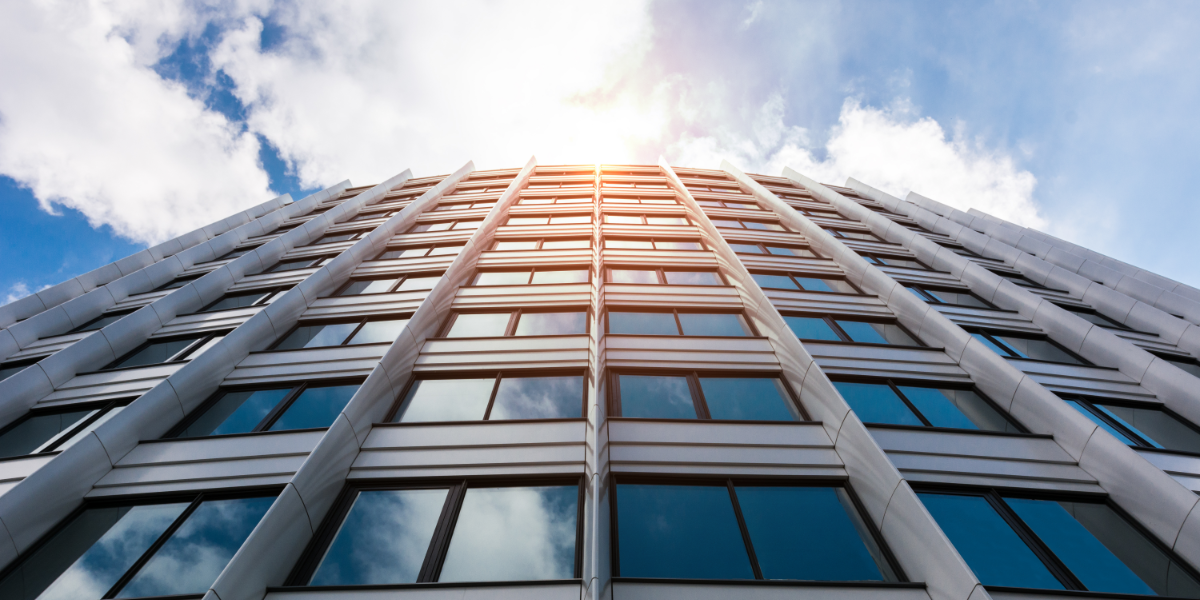 Tuesday, August 29th, 2023
Office Properties & Commercial Real Estate: Thoughts for Non-Profit Investors
While the Commercial Real Estate sector spans multifamily, industrial, retail, and office properties, the office segment has received the most airtime recently as investors wonder how hybrid and remote work, along with higher interest rates, will impact the future of the space.
As the following chart demonstrates, the office segment has indeed suffered a steeper decline in occupancy rates than the rest of the sector.
Chart 1: Decline in U.S. Occupancy Rates More Pronounced for Office vs. Other Properties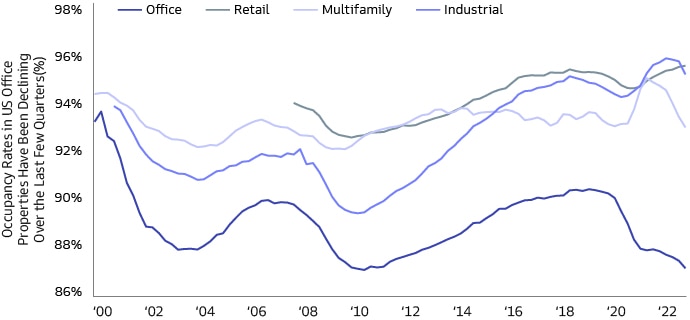 Source: Goldman Sachs, June 2023
Outlook for the Office Segment
What factors will drive office space occupancy going forward? Consensus amongst Commercial Real Estate researchers seems to be that office utilization (based on security badge swipe data) will stabilize at 50 – 60% of pre-pandemic levels as employees settle into a schedule of working remotely 2 – 3 days per week. As Chart 2 projects, office occupancy may bottom out at 81% (19% vacancy) in 2023 and then recover slowly as new office inventory declines and office-using employment grows. The previous highs of 90% occupancy could be a relic of the past.
Chart 2: Office Vacancy Rates and Economic Drivers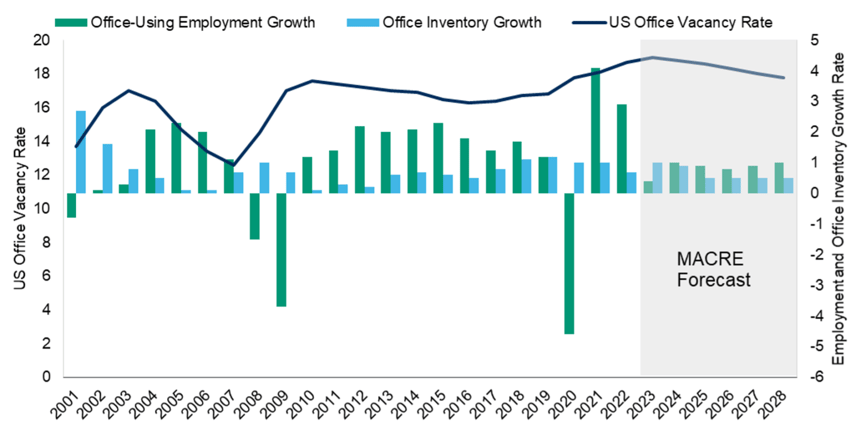 Source: Moody's Analytics CRE, February 2023
Because many businesses now view their office space as the center of a dynamic employee experience, they are more focused on finding high quality buildings with spaces designed for collaborating and socializing. As a result, these types of buildings are holding their value better than their competitors. Increasingly, it seems that older office buildings without amenities or (increasingly popular) sustainability credentials will be the ones to suffer the most.
What Does it Mean for Verger and our Clients?
The Commercial Real Estate sector is quite large. In fact, it's the third largest asset class behind equities and fixed income. Office properties account for less than a third of the sector. Many other interesting areas exist within the sector beyond offices – including warehouse and logistics facilities, or as we pointed out in our first quarter market commentary, self-storage.
At Verger, our investment process features unconstrained idea generation and a nuanced approach to asset allocation. We find creative ways to make allocations based on risk and return exposure, not asset class labels or benchmark breakdowns.
Some of our Commercial Real Estate managers continue to find investment opportunities in office properties within certain geographies or sub-markets with limited supply. Other managers may choose to avoid the segment completely. Now, as ever, we remain committed to positioning our portfolio to opportunistically take advantage of market dislocations as the sector evolves.
All investments involve risk, including possible loss of principal.
Not all strategies are appropriate for all investors. There is no guarantee that any particular asset allocation or mix of strategies will meet your investment objectives. Diversification does not ensure a profit or protect against a loss.
One cannot invest directly in an index, and unmanaged indices do not incur fees and expenses.
This article is being provided for informational purposes only and constitutes neither an offer to sell nor a solicitation of an offer to buy securities. Offerings of securities are only made by delivery of the prospectus or confidential offering materials of the relevant fund or pool, which describe certain risks related to an investment in the securities and which qualify in their entirety the information set forth herein. Statements made herein may be materially different from those in the prospectus or confidential offering materials of a fund or pool.
This article is not investment or tax advice and should not be relied on as such. Verger Capital Management ("Verger") specifically disclaims any duty to update this article. Opinions expressed herein are those of Verger and are not a recommendation to buy or sell any securities.
This article may contain forward-looking statements relating to future events. In some cases, you can identify forward-looking statements by terminology such as "may," "will," "should," "expect," "plan," "intend," "anticipate," "believe," "estimate," "predict," "potential," or "continue," the negative of such terms or other comparable terminology. Although Verger believes the expectations reflected in the forward-looking statements are reasonable, future results cannot be guaranteed. Except where otherwise indicated, all of the information provided herein is based on matters as they exist as of the date of preparation and not as of any future date, and will not be updated or otherwise revised to reflect information that subsequently becomes available, or circumstances existing or changes occurring after the date hereof.
Subscribe to Monthly News & Insights