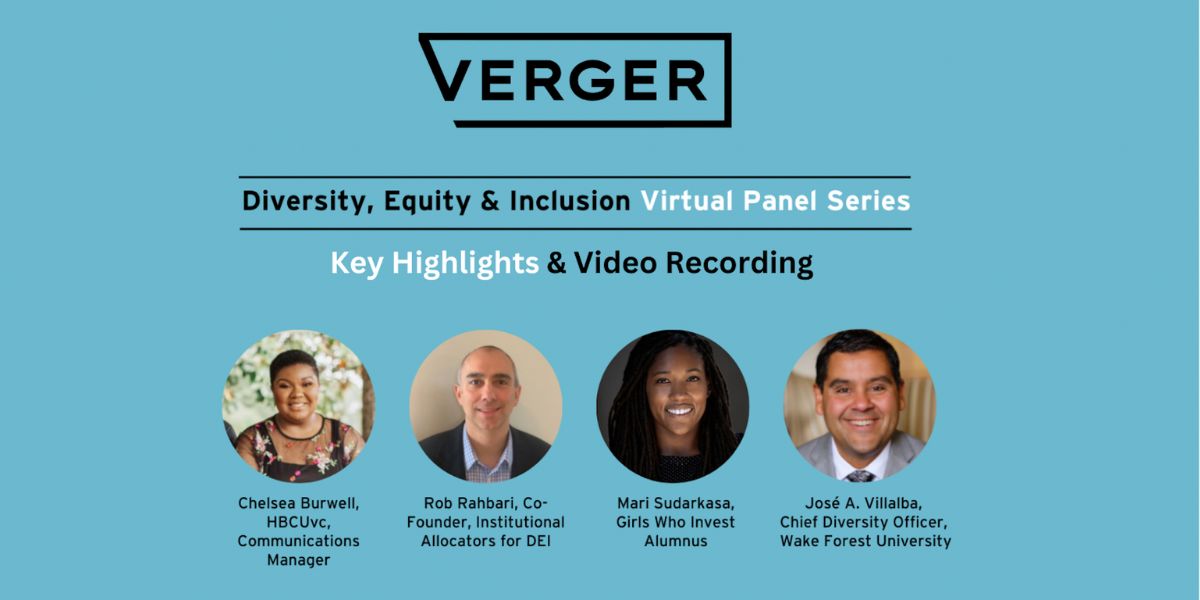 Diversity, Equity & Inclusion Panel Series: Key Highlights and Recording
Verger recently kicked off its Diversity, Equity & Inclusion (DEI) panel series by hosting an exciting and inspiring conversation open to students, community members and anyone interested in learning about finance, DEI, and ESG.
This first panel, moderated by José A. Villalba, Vice President for Diversity and Inclusion, Chief Diversity Officer, Wake Forest University, highlighted organizations dedicated to creating pathways for students from diverse and representative backgrounds into finance and individuals who have walked these paths.
As he kicked off the panel, José pointed out that he and the panelists were excited to encourage students watching to imagine a career in finance, regardless of their academic background or working experience. Throughout the panel, the group noted that communication or storytelling skills and relationship building skills are just as, if not more, important than the technical skills to get started in this industry.
Each of the panelists spoke about their organization's unique approach to supporting diverse students in creating a career path into finance or their personal experience participating in one of these programs.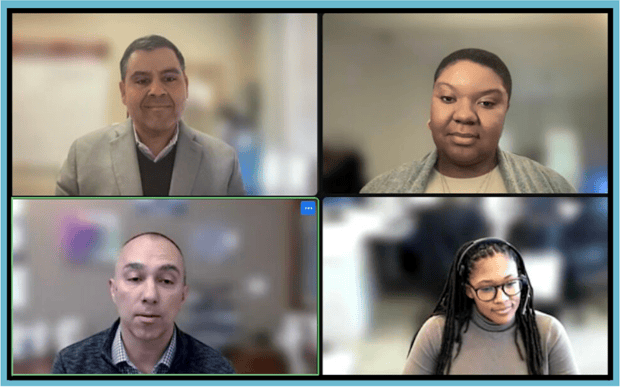 The Panelists – In Their Own Words

Chelsea Burwell, HBCUvc, Communications Manager
HBCUvc is a nonprofit dedicated to creating more accessible career and funding pathways for the innovators and investors of tomorrow, particularly those from diverse backgrounds. Venture Capital (VC) is a relationships-based industry. It's about who you know. What we've found, and many people have found, historically, is that Black and Brown people are not included in these conversations or these spaces. Our organization, which was founded in 2017 as a cohort of 9 fellows and has expanded to hundreds across historically Black college and university (HBCU) communities, was founded not just to help fill VC roles, but also to follow our fellows' life journey and build continued community.

Rob Rahbari, Co-Founder, Institutional Allocators for Diversity, Equity, and Inclusion (IADEI), Senior Investment Officer and Assistant Treasurer, University of Rochester
IADEI was created by a group of institutional investors who came together to highlight the efforts of investment firms led by women and minorities. We now have over 600 members. Our members know that, currently, only a very small percentage of assets are managed by women and minority led investment firms. We've built a database of diverse asset managers and we host an ongoing series of pitch sessions to highlight these managers and connect them with investors. We're committed to making sure the top of the funnel is wide enough to catch all different kinds of investment funds and the best returns, no matter who is generating them. We have a lot of work to do!

Mari Sudarkasa, Girls Who Invest (GWI) Alumnus, Assistant Vice President, Citigroup Global Markets Inc
GWI is a program geared towards Sophomore women in college in an effort to get more women into the asset management industry. The program is structured as a 4-week training program followed by a 6-week internship – and the training program makes all the difference. Regardless of academic background and work experience, everyone in the program starts their internships on a level playing field, with increased knowledge and confidence. This helps participants go into their internship, and subsequently the industry, believing that we belong. The program started in 2016 with 60 students, and now over 800 have participated (either online or in-person).
Some Common Themes from the Panel Discussion:
1. Accessibility
Each of these programs is designed to solve a common problem – a lack of broad representation in the finance industry. By creating pathways for candidates from diverse and representative backgrounds into finance, these organizations lay the groundwork for change.
As Mari pointed out – When I started with GWI I didn't know anyone who worked in the finance industry. And for a lot of diverse candidates, that's the same. As you grow or build, you need that peer network for advice, guidance, and support. It's more than representation – who can you go to ask a question?
2. Support
Another facet these programs all have in common is the focus on supporting their participants or members. Beyond the initial internship, fellowship, or introduction, they provide ongoing support to allow candidates to continue building and growing.
Chelsea shared some related advice – Tap into your purpose. What change do you want to see? You have to believe in the innovation, the ideas, and the community that will benefit from the change. Find the people who inspire you and empower you as you take this journey.
3. Network building
While creating the pathways into finance, and nurturing the individuals who walk these paths, each of these organizations helps build and maintain a network of individuals from diverse and representative backgrounds, along with their allies.
As Rob shared – We've tried to build a "plug and play," easy to access network for everyone. And once you're in, it's easy to stay.
And José provided a related piece of advice, he noted – One of the many ways you can support students is to support each other, build each other up, and strengthen the network. For example, we can share panel invitations with each other or advocate for each of us to join events as speakers.
Some of Our Favorite Panel Moments Include:
José summarizing panelists' comments about expanding beyond the "D" in DEI. He noted we can think about inclusion as the "hug" you receive as part of a truly inclusive community, especially a HBCU or Hispanic-Serving Institution (HSI).

Rob and José collaboratively coining the term – "roll-up-your-sleeve-ery." There's a lot of work to be done, so let's roll up our sleeves and get into it.

José thanking Mari for "becoming the people" who she had stressed are so important to building each other up in this industry. This was after Mari answered an audience member question with an offer to connect via LinkedIn and stay in touch after the panel.

Chelsea sharing how her HBCUvc network makes an impact on each other's day-to-day lives by checking in, sending virtual flowers to say congrats, or rallying support in tough times.
Interested in Learning More about the Programs Discussed?
The panelists highlighted their organizations and the great programs they offer.
For example, Rob & José both referenced Pre-college Programs as a great way for high school students to gain knowledge about finance at an early age.
Chelsea highlighted one of HBCUvc's great programs – the fellowship program, which includes virtual investment and entrepreneurship training, a 3-day in-person retreat, and a 10-week summer internship, and is specifically offered for undergraduate students, graduate students, or recent alumni of HBCUs.
Mari discussed GWI's exciting programs, including the Summer Intensive Program and an Online Intensive Program for Sophomores in college or university, regardless of academic focus or program.
In thanking the panelists and participants, Verger signed off by adding that the firm offers a paid internship program year-round for any students enrolled in college or university classes, regardless of academic focus or program.
For more information about Verger's internship program, please visit

Verger's website

.
Please join us in thanking José, Chelsea, Rob, and Mari for sharing their time, insights, and perspectives. We at Verger look forward to future installments of our DEI panel series and hope you will join us.
If you're interested in watching the recording of the first panel discussion, click here.
Subscribe to Monthly News & Insights