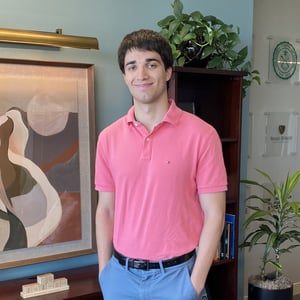 Ali Hakim-Florian will be finishing his sophomore year at Wake Forest, and after his final exams, he is excited to return home to his family in Washington D.C. for the summer. In June, Ali will begin working at Marriott International's corporate headquarters in Bethesda, MD as a Branded Residences Operations intern. This Fall, Ali will be studying abroad in Vienna, Austria as part of a business, politics, and economics program.
Ali became interested in asset management in high school when he attended a presentation given by a hedge fund manager explaining the profession. Since then, Ali has taken multiple finance courses at Wake Forest that have confirmed his passion for the industry. Ali chose to intern with Verger to gain hands-on experience with an investment manager and participate in real-world applications of the financial concepts he has learned.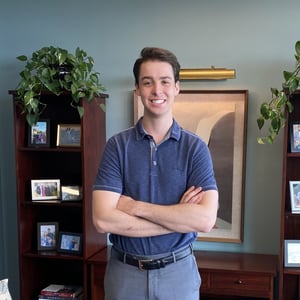 Blair Faber will be graduating this May from Wake Forest with a BS in Finance. Following graduation, Blair will be heading to New York to join Barclays on their Rates Sales desk. Regarding his new role, Blair shared, "I am very excited for this opportunity as I will continue to have the ability to work with Pension Funds, Asset Managers, and Hedge Funds and see their trades in the market firsthand."
Prior to joining Verger as a Spring Semester intern, Blair worked at CME Group as a Pricing intern at Barclays as a Sales and Trading intern. Blair chose to intern with Verger to gain firsthand experience on how an Institutional Investor manages money for endowments.
In his free time, Blair enjoys traveling and spending time outdoors with his family and friends. He is also a passionate supporter of all Washington D.C. sports teams and a proud cinephile. Blair enjoys spending time with family and friends, golfing, and running.
Both Ali and Blair have been talented additions to the Verger team, and we are pleased to highlight them in our Intern Spotlight Q&A series.
What have you learned about workplace culture that you will take to your next experience and/or what have found most valuable?
Blair: My biggest takeaway about workplace culture after this internship is how crucial Verger's open and engaging environment was to my development. I was fortunate to be able to sit on the trade floor where I could listen in on conversations and important meetings between the investment team. This was critical in helping me develop as I became better exposed to the team, the investment industry, and the process of how the Verger team thinks about problem solving and meeting challenges.
Ali: My most valuable takeaway from Verger's workplace culture is the power of collaboration. Serving as a fiduciary to non-profit institutions is a complex responsibility, so complete synergy is required across the investments, operations, and client relations teams to make everything run smoothly. In addition, as an intern on the trade floor, I quickly learned that decision-making on the investment team is always a team effort. Input from every member is necessary and valued, and the spreading out of responsibilities ensures efficiency and harmony. Similarly, I learned that the key to fostering a successful and constructive work environment is simply treating others with kindness and respect. Throughout my time at Verger all my relationships and interactions were defined by these principles.
What was the most interesting thing you learned during your internship?
Blair: One of the most interesting things I learned during the internship was how to drive change as an Institutional Investor. While Asset Managers have recently allocated large amounts to ESG investments to help fund a green transition, they also divested from investments in fossil fuels, mining, and industrials. As a result, many institutional managers lost their seat at the table in these companies and the ability to drive change in the sectors that need them the most. By keeping your seat at the table, you can drive further change in organizations by keeping the business in line with regulations, pushing further investments in green technology, and encouraging the company to become carbon neutral.
Ali: The most interesting thing I learned about during my internship was the vast array of investment managers. The managers selected by Verger have unique edges, invest in a wide variety of asset classes, and come from all around the globe. By reading investor letters, analyzing returns, and meeting professionals in-person I was able to learn about countless different ways of managing assets on behalf of investors. The managers I found the most fascinating were those who are entirely uncorrelated to the market, and instead draw on personal expertise to invest capital in unique strategies in various business sectors to generate alpha.
What part of Endowment and Foundation asset management did you find most compelling?
Ali: The aspect of endowment and foundation management that I found the most compelling was how firms like Verger must tailor their investment approach to suit the unique needs of their clients. By prioritizing downside protection, upside capture, asset-class diversification, and risk minimization, endowment and foundation asset managers seek to deliver strong returns and consistent payouts in perpetuity. In contrast, different kinds of investment managers may have a far greater tolerance for risk to chase returns. In addition, I enjoyed witnessing the careful construction and management of Verger's antifragile, all-weather portfolio. The managers who work with the firm have been thoroughly vetted to ensure they have a distinct edge, are open to idea sharing, and will be fully aligned with the best interests of their clients. Overall, it was a pleasure to help Verger live its philosophy of Protect, Perform, Provide.
Blair: Over the internship I realized the direct impact that investing can have on the lives of others as foundations use the limited resources they have to serve their communities. For endowments, responsible management of their assets can lead to more scholarships, updated facilities, and better resources for students. Notably, during a time when college education has become increasingly expensive and out of reach for many, this experience has shown me that proper asset management can be a compelling solution to combat this.
Are there specific areas of financial management that you are more interested in pursuing after completing this internship?
Blair: After becoming more exposed to investment management this spring I am very interested in learning more about how Hedge Funds deploy their capital, create investment ideas, and navigate market volatility. This is an interesting area as it is a career in which you can receive direct feedback based on your investment ideas which forces you to be constantly adapting and learning.
Ali: After interning at Verger and learning how they manage risk as an OCIO for their endowment and foundation clients, I would love to learn more about how hedge funds assess and manage risk. It would be interesting to compare the risk management strategies I was exposed to this spring with riskier techniques employed by firms that do not manage assets solely on behalf of non-profits.
For more information about Verger's internship program, please visit our Careers page.