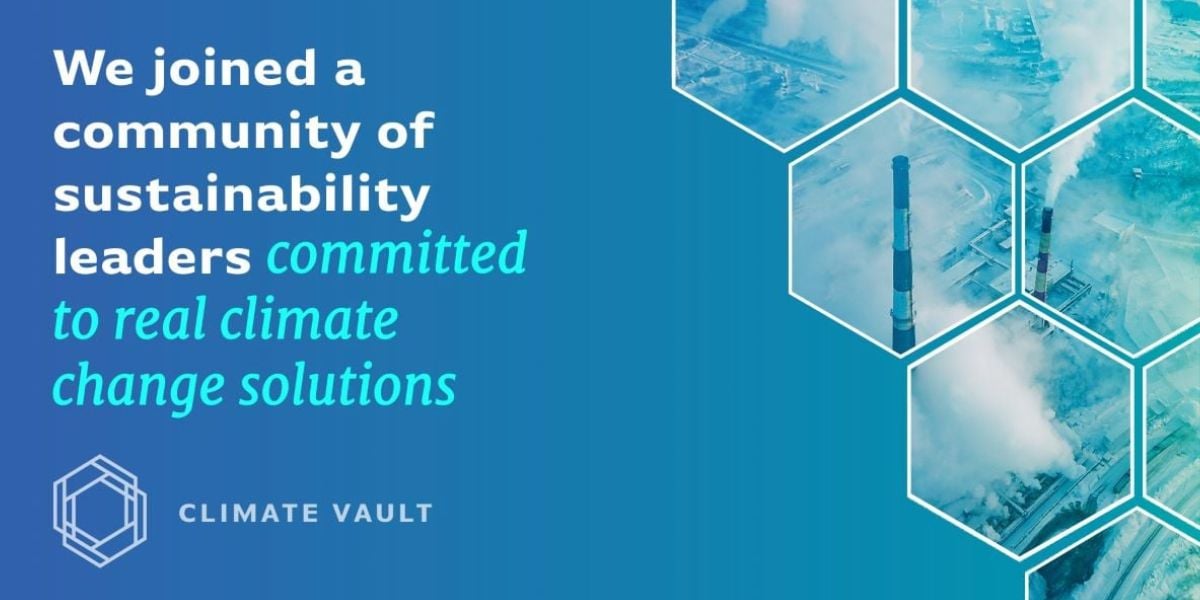 Partner Spotlight: Verger Neutralizes Employee Carbon Footprint with Unique Benefits
Verger is proud to invest in the lives of others, and through a unique partnership with Climate Vault, our company is eliminating employee carbon footprints as a sustainability-focused benefit. This partnership sets a new standard in the investment world, demonstrating how companies can find innovative ways to reduce global carbon emissions.
Climate Vault recently featured their unique partnership with Verger, and we wanted to take the time to amplify the discussion below. If you would like to read the full feature story by Climate Vault, please visit their page: Investing in People: Verger knocks out employee carbon with innovative benefit program, or click the button below.
Connecting to a Mission
Verger's mission-centric approach to business made the implementation of the carbon neutralization benefit a logical step. The asset management firm exclusively serves non-profits as an Outsourced Chief Investment Officer, and reducing and removing its employees' personal carbon footprints allows Verger to extend its tailored high-engagement philosophy inward to its employees.
Committing to People
This movement didn't happen overnight. Verger had been actively thinking about Environmental, Social, and Governance (ESG) issues since inception, but in 2020 it created an ESG Task Force dedicated to continuing to evolve its practices and alignment with its mission. As a result, the company offers Climate Vault's carbon neutralization benefits symmetrically across the organization, ensuring that all members have access to the same benefits and opportunities for reducing their carbon footprints.
"We think about all of our partnerships in the context of our clients and our community," says Inge Smith, Communications Manager at Verger. "We make sure that the ways we lift up voices or donate dollars are connected to the people we serve."
Standing Out From the Crowd
Verger's commitment provides the company with an opportunity to stand out from investment industry peers. If you want to learn more about how Verger partnered with Climate Vault to develop this solution for knocking out their employees' carbon footprints and how you can do the same, reach out to the Climate Vault team.
"Climate Vault is a great fit for Verger, given its robust, innovative, and transparent approach," says Katie McGinn, Chair of Verger's ESG Task Force. "The Verger team appreciates the way Climate Vault neutralizes carbon while also spurring innovation in the carbon dioxide removal space."
Confidence in Commitments
By partnering with Climate Vault, Verger has implemented a scientifically sound solution for neutralizing the carbon footprints of its employees. Climate Vault provides trackable, serialized, and low-risk carbon neutralization strategies, without the uncertainty of voluntary carbon offset programs. This partnership enables Verger to inspire confidence in its teams, who experience the satisfaction of knowing their company is knocking out their personal carbon footprints.
Climate Vault is an award-winning non-profit whose unique, two-pronged approach:
Uses government-regulated markets to immediately and verifiably reduce CO2 emissions.

Supports innovation in carbon removal technologies designed to eliminate historical pollution.
Verger is proud to partner with Climate Vault in our shared goal of finding innovative ways to reduce global carbon emissions. If you would like to learn more about our relationship with Climate Vault, see our previous spotlight post here, or visit our ESG at Verger page.
Subscribe to Monthly News & Insights